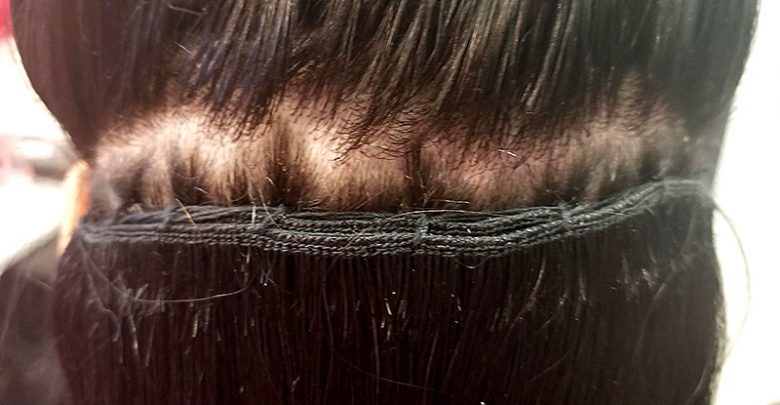 Just like false lashes and spray tans, we don't want others to know that we have hair extensions in.
There is a large variety of hair extensions to choose from to achieve a fuller head of hair and longer locks but if they're noticeable, they tend to have the opposite of a confidence-boosting effect.
The number one rule is to always have your hair extensions installed at a reputable, professional salon. Once your extensions have been applied, there are a few other things that you can do to always keep them well hidden.
Tips for making your hair extensions less obvious
Keep your realistic length. While it may be tempting to go super long, shorter extensions do tend to look a lot more natural. Always keep the length of your natural hair in mind when choosing the length of your extensions.
Trim your extensions accordingly. If you want to get your extensions to blend well with your natural hair, be sure to trim them to match your current cut. This applies to clip-in extensions too. If you do need to trim your clip-in extensions, rather go to a professional salon such as EH Hair & Extensions salon in Brisbane for assistance to avoid damaging the extensions and wasting your money.
Use colour to blend them in. While it will be quite easy to find hair extensions that resemble your natural tone, adding in a few highlights or lowlights could help the extensions to blend in even more.
Waves are perfect for blending. If you're struggling to blend your extensions with your natural hair, reach for your curling iron to create beautiful, loose waves.
Wash them before you wear them. Before you put your apply your extensions, it sometimes helps to wash them first. This removes some of that ultra-glossy shine and makes it easier to blend with your natural hair. Keep in mind that Remy hair extensions aren't treated with silicone so that shine won't be an issue. The better the quality of your hair extensions, the more natural they will look.
Give your hair a tease. To stop your clip-in hair extensions from slipping, tease your natural hair at the roots before you put the extensions in. Top tip: Never place a clip-in extension too close to your hairlines or too low at the back of your head.
Be cautious with updos. Certain types of hair extensions such as clip-ins become more obvious when you put your hair into an up do. If you will be wearing your hair up, make sure that there's enough natural hair to cover the extensions. Use a soft bristle brush and some hairspray to cover your extensions with your natural hair.
One last check. Before you head out the door, always check your hair from all angles to ensure that your extensions are not peeking through. You never know when a camera might catch a glimpse of your extensions clip.